It seems December 2020 isn't just about rolling out new algorithm updates for Google.
Today, we've spotted that Google My Business has received a few updates, the main one centred around how long a company has been in business. For a long time now, Google My Business has had an option in the control panel to add the date when the company opened/began and, although it was seemingly never used, the fact that the option was there meant that sooner or later Google would likely display it on the GMB listings. Today, it seems, is that day.
As you can see below, those who've filled the information out in the GMB control panel now feature "X years in business" alongside their street name and other details. This is an important feature for companies as these details offer a trust signal that customers will likely pick up on and, in our opinion, may even sway customers into using the service of one company over another. The trail of thought being that if a company has been in business for a number of years, the more reliable they are whereas a new company may just be a fly-by-night – here today, gone tomorrow. A business that has been established for over 20 years is clearly doing something right!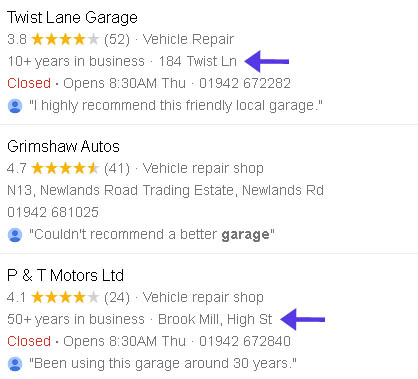 All that is required in the Google My Business control panel is the month and year of the company's inception. There is the actual day date too but that's optional. I'd hazard a guess that most companies and clients may be hard pressed to recall their business opening date to the exact day, so making only month and year mandatory, should you wish to fill it out, is an acceptable compromise.
It also looks that Google have given the GMB account interface a makeover too, making it easier to access sections of the control panel you may require which is especially useful for individuals, companies or agencies who manage more than one listing. This includes quick links to 'edit business information', 'add photos', 'create posts' and 'see profile' which displays the Google results page with your listing.
It's likely more features will be rolled out for Google My Business in 2021, particularly with the increased use of voice search and Google Assistant which is being adopted by more users around the globe thanks to the integration of the technology in various products and services.