Professional SEO Wigan Services
Are you looking to gain more web visitors and business from your website? A results-driven SEO campaign by Positive Rank may just be what you need…
Attracting visitors to your website can be one of the hardest things if no-one knows your brand or business. That's why many small and medium businesses are following the example of global companies by hiring SEO specialists, like Positive Rank, to help gain organic traffic for their website.
SEO is the name given to a service that encompasses a combination of techniques implemented with the goal to improve your website's standings in the search engine results. Search Engine Optimisation, also referred to as SEO, can help your website appear for terms or keyword phrases relevant to your business that your potential customers may be searching via Google, Bing, Yahoo or DuckDuckGo.
By improving the ranking of your website in the search engines, we can effectively put your website in front of the people who matter most to your business.
That's why businesses choose Positive Rank over other Wigan SEO agencies or companies. We have the expertise and know how to develop a bespoke, white hat SEO strategy that gets results, delivered at a competitive price. Utilising a variety of on-page, off-page and technical optimisation, we can grow your web traffic and help to achieve the results you're looking for.
Unlock Your Website's Potential!
Discover how Positive Rank can take your organic traffic to the next level.
Of Small Businesses Invest in SEO
According to The Manifest, less than half of small businesses surveyed invest in Search Engine Optimisation services. The ones who do, be it local SEO or national SEO, see an uplift in organic traffic, which often results in more sales or enquiries, depending on what conversions you have set up on your website.
Following our SEO improvements, the website saw an increase of over 20% in organic traffic.
Click the image below to see the stats larger.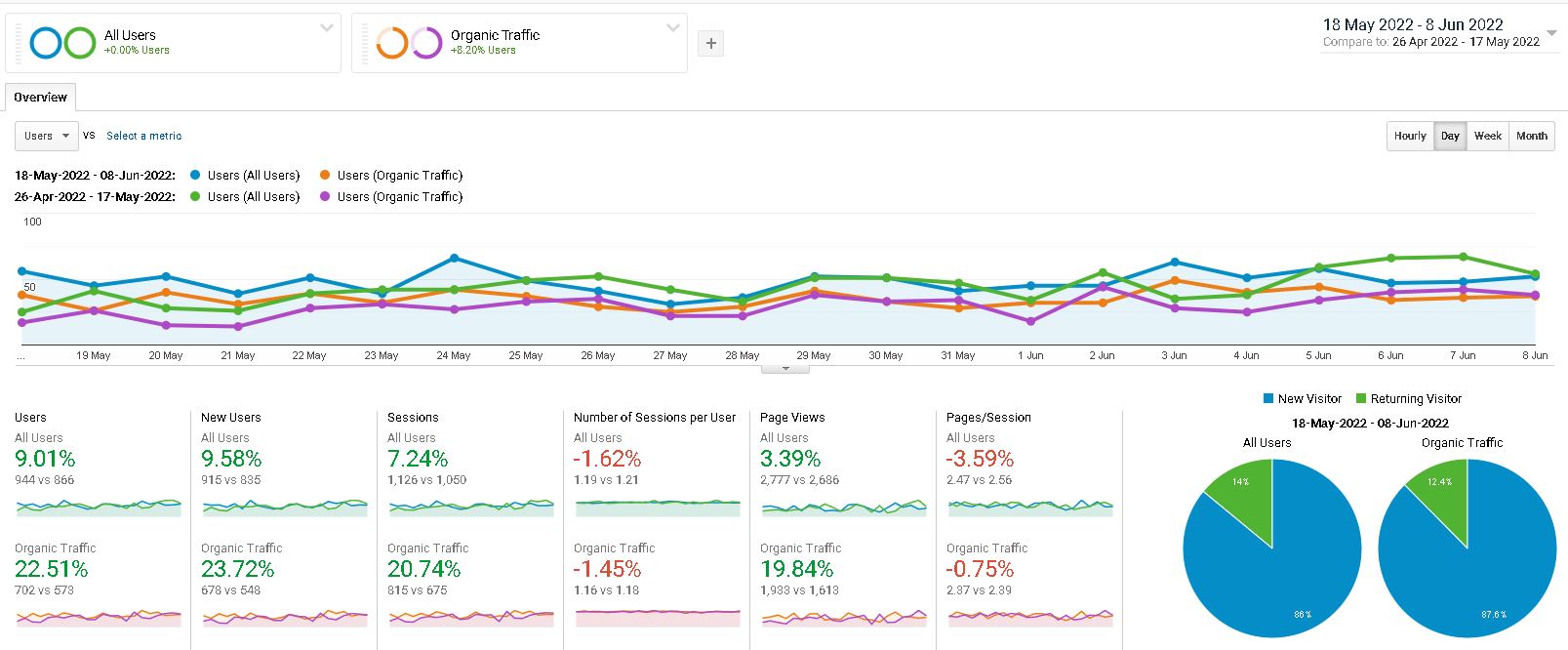 Transform Your Organic Web Traffic With Our SEO Services For Wigan Businesses
It doesn't matter what industry you're in, SEO can transform your business. Whether you're a tradesman looking for more customers or a shop wanting to increase sales, SEO can help to bring interested web users to your website. Utilising a range of techniques, we can modify your website so it appears on Search Engine Results Pages (SERPs) for desired search terms.
By continuing to tweak your website, we can not only improve the position of your website on the SERPs, also referred to as search engine rankings, but can also help to improve the user experience for visitors to your website.
By writing well-researched, engaging copy and meta data for your webpages, securing backlinks from relevant websites, and ensuring your pages resolve by cleaning up any 404 errors, we can help your website perform at its very best. We can also provide other digital marketing services, such as web design, should you require any alterations to your site. These are just some of the benefits of hiring Positive Rank to handle your digital marketing and SEO in Wigan.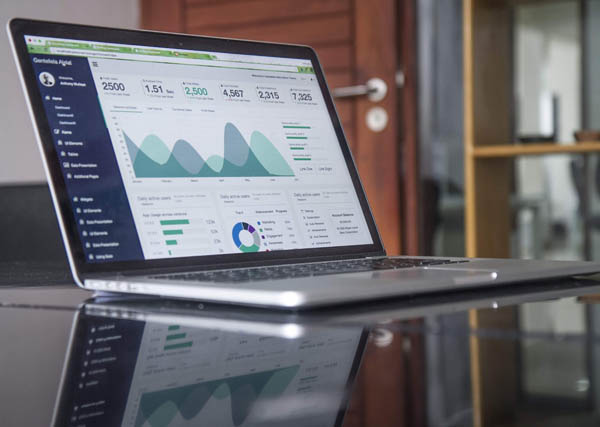 Affordable SEO in Wigan That Gets Results
Result-Driven SEO Strategies For Your Website
As an SEO company in Wigan, we have proven success in achieving results for our clients across the borough on a local and national scale. Whether it's targeting local people to encourage them to use a particular company's services (local SEO campaign) or being the premier choice for a product no matter where you're located in the UK (national SEO campaign), our SEO in Wigan for companies of varying sizes has played a massive part in the success of their business.
Having an online presence is so important in this day and age, especially due to the drop in circulation of print newspapers and the absence of physical Yellow Pages and Thomson Local directories which used to be the go-to avenue to place an advertisement. Now almost everyone has the internet in the palm of their hand in the shape of a mobile phone or access to a laptop, tablet or desktop, and it's that what they use to find the things that they need.
A Bespoke SEO Campaign Tailored Just For You
From tradesmen to retailers, local businesses from all walks of life can benefit from a website enhanced by search engine optimisation undertaken by a professional SEO consultant.
By choosing Positive Rank, our experienced SEO specialists in Wigan will create a bespoke SEO strategy for your website, tailored to help achieve your desired goals.
On any new SEO campaign we undertake, we will conduct an audit of the current website to see what work is required in order to best optimise it for the search engines. Keyword research will also be undertaken to find out what keywords to target to capture your ideal audience as well as competitor research to discover what keywords your rivals' websites are ranking for. A bespoke SEO strategy for your website will then be developed with these keywords as a focal point in which to springboard your SEO campaign.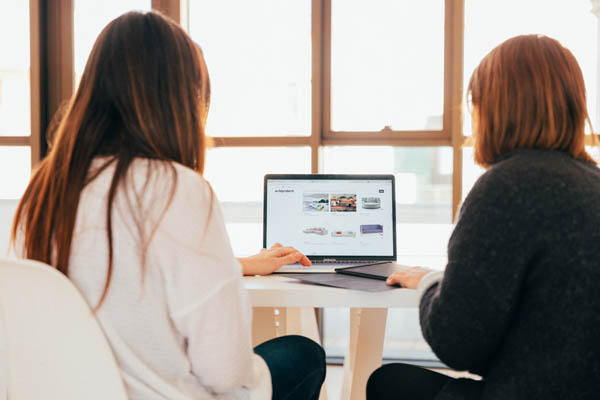 SEO For All Types of Businesses & Websites
Having worked with a variety of industries, including construction, health, beauty, fashion, retail and legal, Positive Rank have the expertise required to take your website's organic traffic to the next level.
No matter if it's SEO for ecommerce websites or for a standalone brochure website, we can deliver an SEO campaign that's right for your website.
If you're looking for a professional SEO service in Wigan and surrounding areas, including Ashton-in-Makerfield, Hindley, Leigh, Standish, Orrell or Pemberton, get in touch with Positive Rank today.
What our SEO Wigan Service includes…
Site Audit
By auditing your website and analysing your competitors, we can identify ways in which to optimise your website to its fullest. Site speed, originality of content, user experience, referring domains and schema are just a few of the things we'll analyse to see if there are any issues that need to be addressed. From this, we can create a plan of action to transform your website, increase your reach and grow your online presence.
Content Plan
"Content is king" is a phrase well known within the SEO community and it still rings true today, Your website is only as good as the content which is on it which is why we'll develop a content plan to appeal to your current audience and open your website up to people who have yet to visit or discover your website. By engaging your site's visitors, our content can play a key role in converting those visits into enquiries!
Technical Optimisation
Website speed is important in modern day browsing thanks to the increase in usage of mobile phones. Therefore, we use technical optimisation techniques to speed up your website and to make the page size as small as it can be without compromising quality. We can also utilise schema to help Google and other search engines to process certain webpages such as reviews, products, events and recipes.
Link Building
Having a solid backlink profile can not only improve your rank within Google, it can also generate valuable referral traffic to your website. We can identify quality backlink opportunities with trusted and authoritative websites tailored to your industry. If your site has previously been hacked or has been hit by a number of spammy links, we can also help to clear this up and get your domain back on track.
Frequently Asked Questions About SEO in Wigan
What does SEO mean?
SEO is an abbreviation of the phrase 'Search Engine Optimisation'. It is a term given to a range of techniques used to improve the performance of a website's rankings on search engines.
How long does SEO take to see results?
SEO is often referred to as a marathon rather than a sprint and for good reason. A lot of work goes into an SEO campaign as there's many elements to take into consideration in order to make your website more attractive and relevant to Google. The more competitive a market or desired keyword is, the more work that is required to achieve positive results. Not only that, it can take months before the work is reflected in Google's results so don't expect to see increased rankings within a week of the work being done.
SEO is an ongoing task and we always recommend clients give any SEO campaign time to take effect which is usually a minimum of six months. Though we don't hold anyone to a contract, it is beneficial to pay for SEO monthly on an ongoing basis so that the tailored SEO strategy for your business can be implemented successfully.
Do you only offer SEO in Wigan?
Even though we're an SEO company in Wigan, we can provide our professional SEO services to anyone who requires them from across the UK. As the work involved is performed using a computer, the job can be done remotely in order to improve the rankings of your website and generate extra organic traffic.
If you prefer your SEO specialists to be local, then we're ideal for anyone looking for SEO in Wigan borough, including Atherton, Tyldesley, Golborne, Aspull and Abram.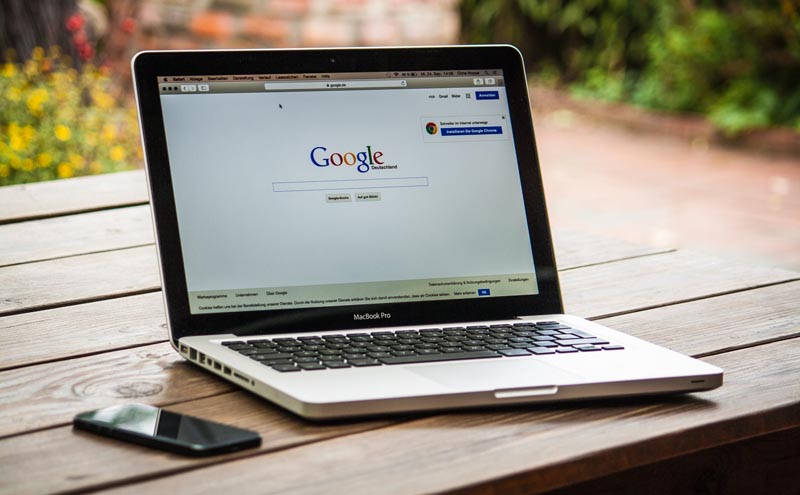 Digital Marketing Services In Wigan
We're not just a leading SEO agency in Wigan – we provide a range of online marketing services in order to get your website seen by the right audience. Whether you're looking to generate brand awareness, require white hat SEO services, would like someone to manage your social media campaigns, content marketing or PPC advertising, we have skills and expertise to deliver a professional service that prioritises results.
SEO Services in Wigan: Consultation & Implementation
If you're looking for more traffic to your website, we can provide SEO consulting services to point you in the right direction by creating an effective SEO strategy for your in-house team to execute. Alternatively, our skilled SEO consultants can undertake all the necessary work so you know that the strategy is executed correctly.
Whenever optimising a website, we use trusted and proven SEO techniques that produce results. As SEO specialists, we will work to improve your organic search engine results through on page SEO, creating engaging content, building backlinks and undertaking various technical methods.
No one SEO project is the same as the other which is why we look at the needs of each site individually to see what has already been achieved, what problems exist and what needs to be fixed. Once the website is in good order, then the work can begin to improve the website, and the Google rankings, utilising a variety of search engine optimisation methods.
What's Involved
When undertaking an SEO campaign, we conduct an on page SEO audit to ascertain what changes are required, followed by implementing the necessary on page optimisation fuelled by keyword research. Finding the right keywords to target is important in order to rank in the organic search results.
We will identify opportunities to improve upon existing content and where fresh content is required on site. The backlink profile of a website will also be audited and compared with competitors to ensure no spam or negative links may be holding the site back and to find opportunities to strengthen the site's status.
Contact Us About Our Services
Opening hours
Monday - Friday: 10am - 5pm
Saturday - Sunday: Closed
LOCATIONS COVERED
Throughout United Kingdom, including Leigh, Wigan, Lancashire and Greater Manchester.