Web Design
& SEO 
Portfolio
Examples of Websites & SEO Campaigns
At Positive Rank, we take pride in every website we create, maintain, fix or run online campaigns for and are open to working with a variety of clients from all different industries. We have worked on simple service and brochure websites to the more demanding e-Commerce websites that require products adding and payment gateways to be set up.
Take a look at some of the websites which Positive Rank have created or worked on below. A few of these websites we also ran SEO campaigns for to help the businesses to be found on search engines like Google and Bing.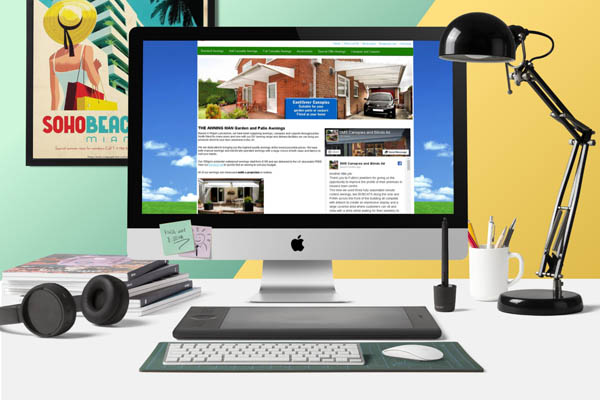 We were approached by the client to create an eCommerce website for The Awning Man which was to sell garden and shop awnings that could be fitted by the customer or a tradesman. As this did not require the company to go out and fit the awnings themselves, they could sell nationwide.
Working with the client, we produced an eCommerce site that could utilise guest and registered user checkout with Paypal and Card payments.
With the client having the brochures to reference, we were instructed to populate the website with content as part of our full eCommerce service. Incorporating SEO into the build, we decided on a format that would fully benefit from longtail keyword searches from the start. Utilising the brochures, we populated the entire product database with original content, uploaded images, added prices and produced extra information pages, resulting in a website which the client could immediately launch and make money from.
After the success of the DIY awning e-Commerce website, we were commissioned to create another website for the same business, this time for their premium awning fitting service. With these awnings being bespoke to the customer, an eCommerce platform was unnecessary. Instead, we hand-coded a subtle yet well-structured, mobile-friendly website tailored to the service offered, showcasing the handful of styles of awning which customers could choose from.
The minimalist design and clean code makes for an easy-to-use website on all devices with the focus being purely on the products being sold.
SEO was incorporated into the build with a focus on awning keywords in the Lancashire and Manchester area.
After being hacked, a local martial arts club contacted Positive Rank to both fix and give their website a new lease of life. We hand-coded a static website for them in 2010 and have since redesigned the club's website to be both user and mobile friendly.
With regular new pages and image galleries to be added, we decided to build the new website using a CMS system. This allows for content to be added easily by both ourselves and the client.
As part of the new build, we began an SEO campaign to rank for various martial arts keywords in the local area in addition to gaining visibility nationally for the more specific styles of arts. Positive Rank have been successful in achieving page 1 results with many top 5, top 3 and position 1 rankings.
Contact Us About Our Services